Ottawa Halloween Attraction - Skreamers Haunt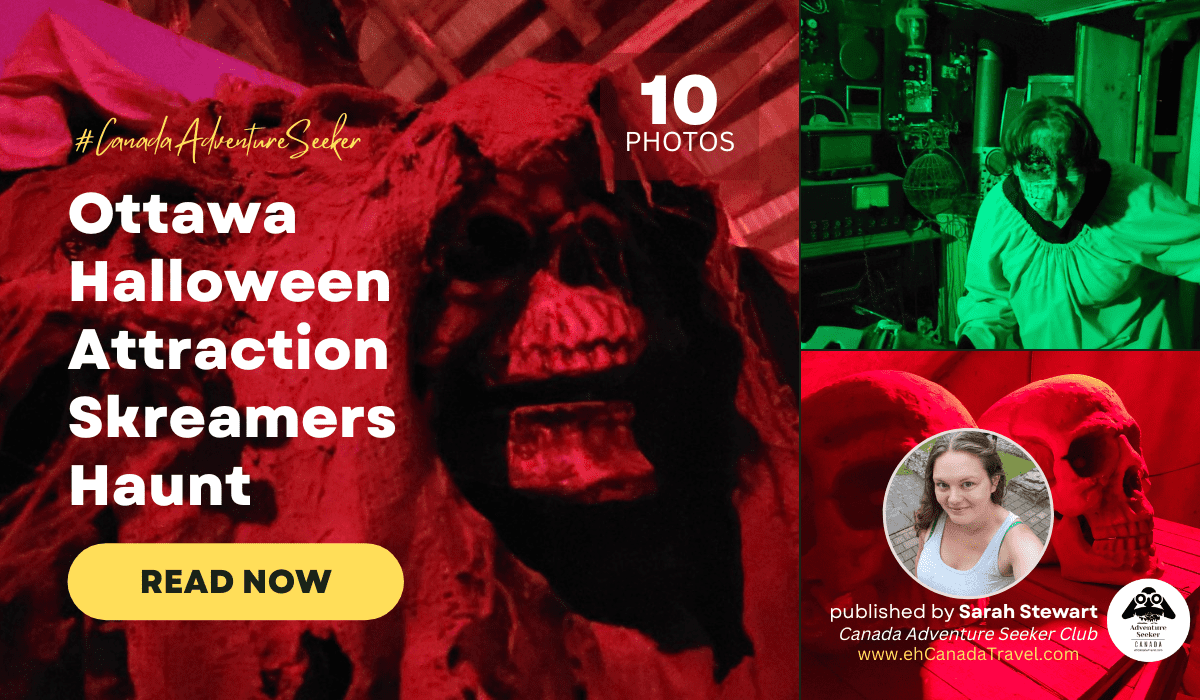 Halloween Attraction in Ottawa Ontario Canada
Kiwanis Club's sKreamers is a Scary Adventure
Ottawa Halloween Attraction - Skreamers Haunt at Proulx Berry Farm is one of the most well thought out events in the Ottawa area! Therefore, we've visited two years in a row and have been equally impressed each time. Run by the Kiwanis Club and staffed by student volunteers, this haunt is incredibly well run, especially considering that the bulk of labour is through volunteer work!

The story of how sKreamers came to be is a good one. "sKreamers is the demented and awkward child of the Kiwanis Club of Orleans. While considering fundraising opportunities in and for the community, Mitch Miller and Harley Bloom shared their love for Halloween with the other club members and the concept of sKreamers was born."
Checking in to the Ottawa Halloween Attraction
Upon arriving at Proulx, we checked in at the front where we were given three coloured tokens - one for the wagon ride and one for each of the indoor bard haunts. This simple system ensured that everyone who paid admission was able to take part in each attraction only once, reducing lines and wait times.

However, this year we did have a bit of a hard time at the front kiosk, as we brought all of our kids, including the two-year-old. At first, they were reluctant to let him in - "Are you absolutely sure? This is terrifying." - but we assured the attendant that he had been well prepared for the spooky adventure, knew exactly what to expect, and would only be doing the wagon ride, not the indoor haunt.
An Ottawa Spooky Wagon Ride
Our first stop was the wagon ride, known to be highly interactive with screamers, bangers, chainsaws, and more. We handed in our token, got some strange looks for bringing a preschooler, and boarded the wagon bed attached to a farm tractor. Before long, we were off, with the two-year-old guessing what spooky things would be around each turn and our guide kindly giving me a quick heads up when there was something I should warn him about. After a 10-15 minute wagon ride, we disembarked, ready to take on the two indoor haunts (minus the two-year-old, of course).

We certainly enjoyed the wagon ride, but it was nothing compared to the indoor attractions at sKreamers! In addition the line-ups (which were long but moved quickly) were entertaining due to roving actors interacting with the people in line and even a mini-doughnut truck with debit on site, allowing the option of snacking between attractions (which we absolutely took advantage of)!
Barn Haunts at sKreamers
As we were lead through the entrance of the first indoor barn haunt, we were already impressed! In other words, as a family who puts a lot of thought into Halloween and horror, we were super impressed with the set design, characters, and even lighting. It was quite clear that a lot of work had gone into this setup! The first barn, though fairly small from the outside, went on for much longer than we would have expected, with many interactive characters, jump scare galore, a wide variety of spooky scenes, and some unique sensory experiences.
Honestly, just the wagon ride and the first barn walkthrough would have been well worth the price of admission, but there was still more to go! At the next barn, the scares continued with all new characters (as well as some familiar faces) and a new string of creepy set-ups and thrilling scares. Without ruining the surprise, I will say that barn two had my absolute favourite installation I've even seen at a haunt, and there may be teddy bears involved!
Visit the Haunt at sKreamers
Our experience at sKreamers included a broad assortment of people ranging in age from preschooler to mid-forties and all left feeling more than satisfied with the experience. Hence why the amount of planning and work put into this volunteer run haunt was absolutely stunning, especially since it wasn't exactly the same two years in a row!

If you'd like to visit sKreamers yourself, which I would highly recommend, you can visit their website here to book tickets so you don't miss out on getting a spot! Limited tickets are available at the gate but may sell out. On busier nights, it can take up to two hours to get through all of the attractions, so arriving after 8:30 may result in missing out!

sKreamers Haunt Cumberland
Orleans Optimist Club Halloween Attraction
---
Stay Informed
When you subscribe to the blog, we will send you an e-mail when there are new updates on the site so you wouldn't miss them.