Vacation Homes in Canada
Canada provides you all the amenities of home
Canadian house rentals, guest homes and holiday homes
Canada vacation homes, sometimes called house rentals, holiday homes and guest houses, are widely popular in many parts of the country. A Canadian vacation home is a special type of rental accommodation, used for family holidays, adventure vacations, corporate travel, group retreats for usually a week or more. A vacation home in Canada is an opportunity for travelers to enjoy our country and its adventures as if they were living in their own home.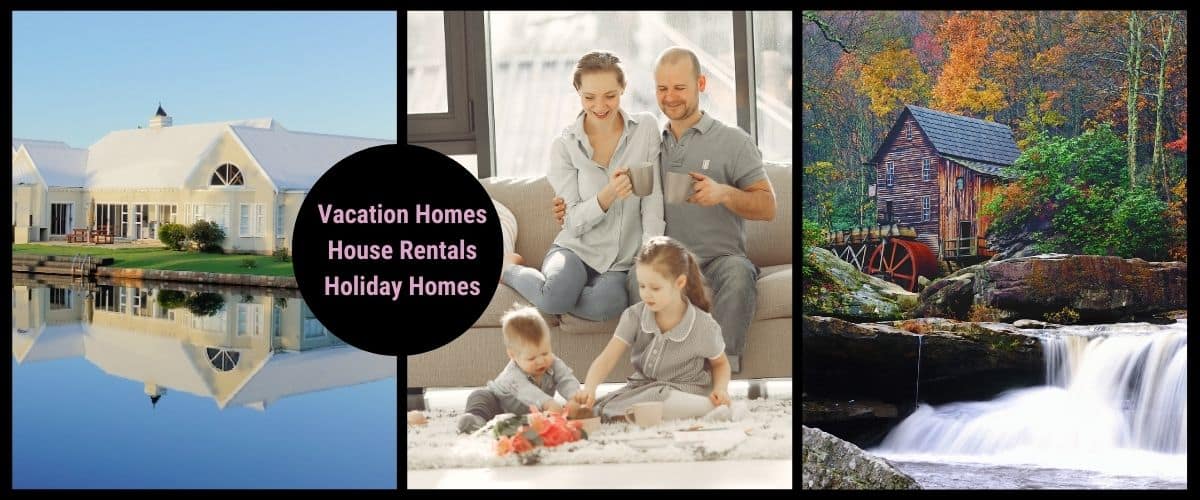 What is a Vacation Home and Holiday House?
Firstly, a vacation home is a self contained accommodation. What we mean by self contained is that almost everything you require to go about your daily life is provided by the home. Secondly, it is important to know vacation homes or holiday houses in Canada vary in size, age, amenties, location and price. Often a holiday home is a stand alone rental accommodation surrounded by year round residences of the local community. Please be respectful of your neighbours.
Amenties of Vacation Homes in Canada
Guest houses, holiday homes and/or vacation homes provide all-in vacation and adventure experiences. By all-in, we mean that vacation homes provide everything you need for a comfortable stay including a well equipped kitchen, comfortable living area, bye-bye bedrooms, laundry room (most of the time) and washrooms. The kitchen has plates, cutlery, pots and pans. Beds are covered with linens. The washroom is stocked with towels, and yes, toilet paper too.
Types of Holiday Houses in Canada
When selecting an accommodation it is important to make a list of your needs and wants as a traveler. Factors which may influence your decision include proximity to adventure, night life, shopping and entertainment or what adventure equipment is on site? Therefore some of the extras that may or may not be provided with a vacation home thta sould be considered include sports equipment, games rooms, swimming pool, jacuzzi tubs, sauna, hot tubs, freezer, garage, boat launch, beach access and others.
Holiday homes, guest houses, rental units and vacation homes in Canada
Book your vacation the Canadian way.

Vacation Homes in Canada Tips
- confirm what is the price of the accommodation with taxes included?
- confirm sleeping arrangements within the home.
- book accommodation prior to your arrival, especially for weekends and holidays.
- confirm arrival time and key pick up.
- confirm who is the contact person for problems if they should arise?
- for families with children confirm activities & attractions that are nearby.
- request a walk-through of accommodation with your Host prior to moving in.
- confirm services important to you like phones, television, internet, cell service, microwave. (if important)
- confirm parking situation.
- is there a cleaning crew every morning?
- is there laundry facilities on site? (if important)
- are there any special pricing packages if you stay longer?
- in the winter: request that the heat be turned on prior to your arrival.
Please mention you saw their Vacation Home on ehCanadaTravel.com.