Flying to Canada during COVID-19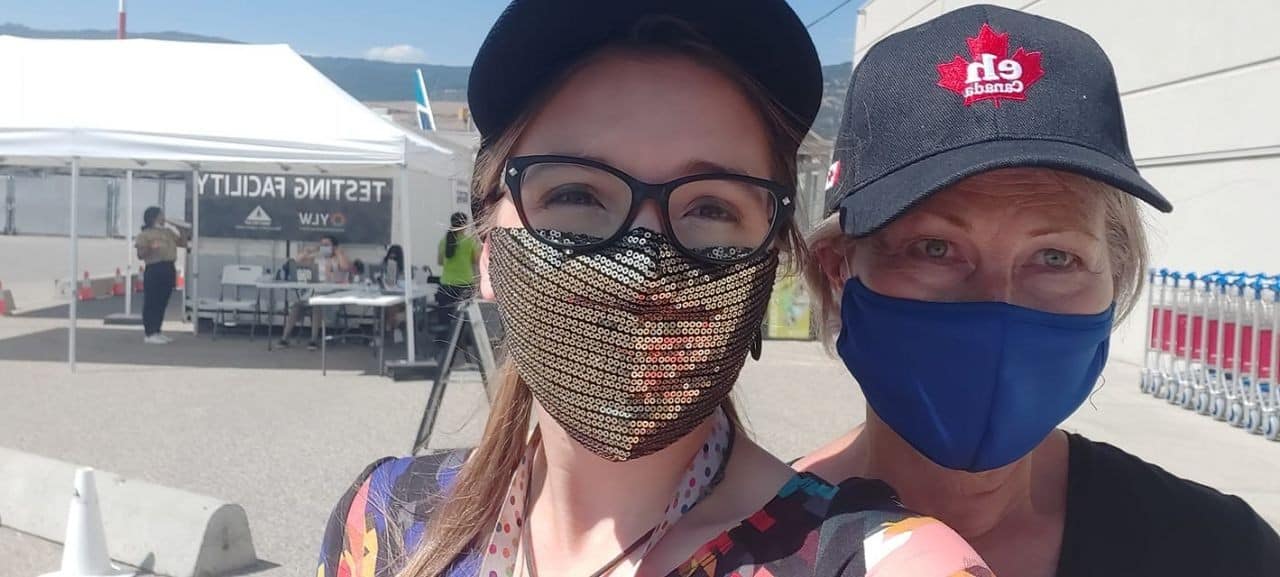 Crossing the Canadian Boarding during COVID-19
Welcome back to Canada; now what?
Flying to Canada during COVID-19 - I will admit, I was confused as well. I had to travel internationally, cross the US/Canada border, prove I was fully vaccinated, AND take arrival tests. Figuring all this out was a lot to understand. Let's set the stage. Firstly, you are returning back to beautiful Canada. Secondly, you need to cross the border but you don't know what is next. Lastly, I was there and understand the confusion.
---
There Are Test When Flying to Canada during COVID-19
Test types do matter
Taking a COVID-19 test is way less scary than it sounds. The first thing I learned about the tests is that the type of test matters. Only a few of the tests that are accepted to enter Canada are available in Canada, so make sure you have taken the correct test! Otherwise, you may be turned away at the border.
I was terrified to take my travel PCR test, however, it was not nearly as bad as I thought it would be. For me, I barely noticed the test, it felt more like eating too much spicy food. Just breathe and it will be done soon!
Make sure you take this test within 72 hours of your departure. In particular, you will need it before you even get back into Canada.
At your hotel print off a copy of the negative result, as well as having a copy on your phone therefore there is no risk of losing it or your phone dying. (pro tip, bring a portable charger)
Finally, you will need to show your negative result at the ticketing booth, as well to get onto the plane so keep it handy.
---
"ArriveCAN" App For Airports
Travel Testing is easier then it looks
The very first thing one has to do when flying to Canada during COVID-19 is to download and fill out the information on the "ArriveCAN" app. At the present time this app is free and is now needed to return to Canada. Once downloaded you can fill out the arrival information up to 72 hours before arrival. However, I did not know at the time is that you should do this BEFORE you arrive at your departure airport.
Filling out the information is extremely easy, most of the questions are "Yes" or "No" questions. The only time the questions were not yes or no questions were when needing my PHN (Personal Health Number), as well as when I needed to upload my vaccination card. On that topic, vaccination cards. I got really stress and scared when I read "Take a picture of your Virtual or Physical card" I missed the "or" and started to panic.
When they are asking this they do ask for two pictures. If your Vaccination Card is like British Columbia's you simply upload the same card twice, if you were given a different card for dose one and one for dose two upload them separately. Soon later, you will receive a "case number" when all is done. After all this, you will need to have the app open and on your phone when you cross the border.
Soon later, just like that, I was cleared and back into Canada, the app actually made it a lot easier than I thought it was going to be.
---
Arrival Test When Flying Canada
What is a "Home Test" in Canada?
As part of flying to Canada during COVID-19 everyone entering Canada must do an "arrival test" sometimes called a "Day one test". At the border, there were a lot of people, including myself that were confused with the "day one/Arrival test". Everyone I spoke to understood that you were to do this test before border crossing (talking to the agent).
However, you receive this test after crossing the border. The agent who reviews your ArriveCAN case number puts a sticker on the back of your passport, I am assuming they are constantly changing what the different coloured stickers meant. I then followed what felt like a long maze, meeting four to five agents along the way looking at my negative test (yes you need that negative test again) as well as looking at the sticker on my passport.
From what I understood at the airport, individuals who arrive in Canada were sent one way, and individuals who were on connecting flights through Canada were sent another way.
When arriving in Canada you are given a "switch health" home test. You are to take this small kit to your "final destination" and take the home test the day you arrive at your destination.

Now, in my case, my flights kept getting canceled due to the BC Wildfires, so I did not arrive at my arrival destination until my fourth day back in Canada. I phoned Switch Health, and they did confirm that if your flight is canceled or delayed you can phone and explain your situation, they were very understanding.

Arriving in Canada With Your Day One test
Taking your Day One test
Taking the home test was incredibly easy. Anyone can sign into Switch Health. When logging on you wait on your computer for a nurse to come and video chat with you. Therefore, you will need a computer, phone, or tablet with access to a camera and microphone. Side note, my microphone decided to break on me. I learned that they do have a typing option for people with microphone issues or who have communication difficulties.
When I logged on the wait time was two hours, luckily my wait was only around 20 minutes. (however, my Mom's wait was nearly an hour and a half). The tests themselves were done entirely by yourself, the nurse gives you step-by-step instructions and watches you complete the test. There is liquid in the test tubes so be cautious of that and follow the directions, the test was done in less than a minute. The test comes with a prepaid mailbag and locations on where to drop off the test. The results themselves came two weeks later, however, if you are not required to quarantine you do not need to wait for the arrival test to leave you home.

Travel during COVID-19 Is Easier Then It Sounds
Flying to Canada during COVID-19 and crossing the border is not as stressful or scary as it sounds or looks. Everyone is able to travel and follow the steps. Just remember to take a deep breath and, before you know it, you are home.
Crossing the Canadian Boarding during COVID-19
Canada Travel Requirements During Covid 19
Stay Informed
When you subscribe to the blog, we will send you an e-mail when there are new updates on the site so you wouldn't miss them.
Comments
No comments made yet. Be the first to submit a comment